Ad. Use PAYONEER to start online business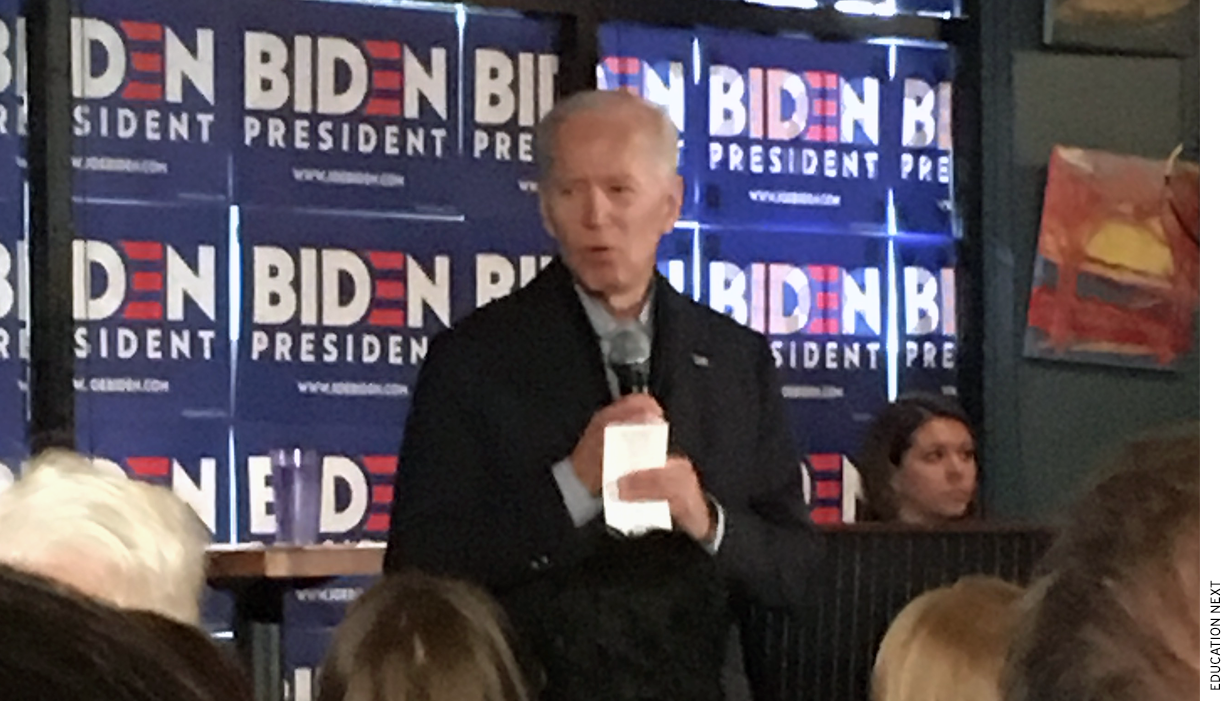 It's looking entirely possible that Democrats will emerge from November with unified control of the White House and Congress. There's a lot of time until Election Day, but no one expects Republicans to threaten in the House, the Senate looks to be in reach for the Democrats, and Joe Biden has a sizable lead on President Trump—with polls suggesting that voters may be ready to pull down the curtain on the Trump Show.
That raises the question of what might lie ahead. Amid all that we've been through in the past six months, it's a query that's fallen by the wayside. But it's one worth pondering, as unified Democratic control of Washington could lead, for good or ill, to some profound changes in American education.
Why is that? Well, four constraints that long served to narrow the scope of federal education policymaking have largely given way. The most important is the increasing talk among influential Democrats—including Biden—of abolishing the Senate filibuster. This means that a bare majority would be enough to pass major legislation. It's hard to overstate just how big an impact this could have on federal education policy.
Second, it's tough to imagine that the green-eyeshade types will be much of a check on spending after a Republican president who ridicules concerns about the federal debt and after a coronavirus response that has sidelined talk of fiscal probity. Third, both political parties have grown far more homogenous, so the kind of intra-party squabbling that frustrated Presidents Bush and Obama is less likely to plague the Democratic caucus in the year to come. Finally, the give-and-take brand of compromise that once restrained both parties has been smashed to pieces.
So what does all this mean? The upshot is that, come January 2021, Democrats could be in a position to enact an education agenda that would've been inconceivable just a few years ago. How things actually unfold will depend on presidential priorities, where things stand with COVID-19, and much else. But here are a handful of remarkably ambitious proposals that could race through a Democratic Congress if Mr. Biden takes up residence at 1600 Pennsylvania Avenue and the filibuster is no more:
Big New K-12 Outlays. Biden is promising to triple funding for Title I to $45 billion per year, increase federal outlays for IDEA, and double the number of "psychologists, guidance counselors, nurses, social workers, and other health professionals" in schools.
Free College: Biden has promised to make up to two years of community college free for all students. He's also "endorsed Sen. Bernie Sanders' original proposal to make public colleges and universities free for families earning below $125,000 a year." And Biden's plan is more modest than what some influential Democrats have endorsed. One can certainly imagine, for instance, a more expansive Sanders-Warren plan getting traction.
Debt Forgiveness. Biden would forgive all undergraduate "tuition-related" student debt for borrowers who earn less than $125,000 a year and attended public community colleges or four-year institutions. Biden has also backed Senator Elizabeth Warren's call to immediately cancel at least $10,000 of student debt per person.
Equality Act. If Democrats scrap the filibuster, they'd almost certainly enact the Equality Act, which adds "sexual orientation" and "gender identity" to Title II of the 1964 Civil Rights Act while expanding the law's definition of public accommodations and circumscribing the reach of the Religious Freedom Restoration Act. The result would require changes in policies governing athletics, dress codes, locker rooms, dormitories, single-sex schools, and more.
Teachers Unions. Biden promises to enact two changes that would hugely benefit the NEA and AFT. Biden has pledged to "establish a federal right to union organizing and collective bargaining for all public-sector employees" and to "ban state laws" which stop unions from collecting fees "from all workers who benefit from union representation" (effectively reversing Janus v. AFSCME).
School Choice. Biden's proposals are less ambitious here than on many other fronts. He pledges to put an end to the D.C. Opportunity Scholarship program and to stop federal funds from going to for-profit charter schools. While prominent congressional Democrats have called for much more, including a moratorium on charter schooling, this is one place where splits in the Democratic caucus will limit what gets done.
Title IX. Biden has promised a "quick end" to Secretary DeVos's Title IX rules. DeVos's rules reversed Obama-era guidance by adding due-process protections for accused students and relieving schools of some legal liabilities. Biden would reinstate Obama administration Title IX guidance that encouraged schools to aggressively expand investigations of misconduct.
Universal Preschool and Child Care. Biden has sketched a 10-year, $775 billion proposal to promote universal preschool for 3- and 4-year-olds, new federal funds to support the construction of new child-care facilities, and an $8,000 tax credit to help low-income families pay for child care.
Every president is elected with a long laundry list of promises. It's usually a mistake to make too much of them. But, come January, the usual rules may go out the door. If Biden winds up enacting even half of this agenda, it could fundamentally alter the shape of American education. Almost unremarked amidst the focus on COVID-19, school closures, this summer's protests, and our fierce culture wars, we could be just over three months out from the most momentous education election in American history.
Frederick Hess is director of education policy studies at the American Enterprise Institute and an executive editor of Education Next.
This post originally appeared on Rick Hess Straight Up.
The post What a Democratic Sweep This Fall Would Mean for Education appeared first on Education Next.